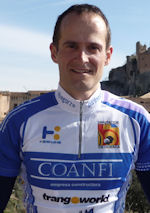 KAKE-TV in Wichita, Kan., reports that the driver of the truck that paralyzed Race Across America competitor Diego Ballesteros Cucurull won't face criminal charges.
The driver — Keith J. Swoverland, 22, of Wichita –was cited for inattentive driving and given a ticket. However, police could not determine iwhether there was anything illegal being done to cause the driver to drive onto the shoulder of Kansas Route 254. Police checked cell phone records and could not find any evidence that the driver had been using it when he hit the cyclist.
The accident took place about 6:45 a.m. June 16 on Kansas Route 254 in Sedgwick County. At the time, the Kansas Highway Patrol said Ballesteros was hit by an eastbound car that veered onto the shoulder. The patrol says the driver was distracted by something in the car.
Ballesteros, a member of the Spanish four-man Coanfi Desafio Aspanoa team competing in RAAM, s in a rehabilitation hospital in Barcelona, Spain. The KAKE story says he'll never be able to walk again but plans to ride a hand-crank wheelchair.
"Diego had already forgiven the driver of the car that hit him,"  cycling enthusiast Ben Sciortino  told KAKE.  "He is in good spirits even though doctors in Spain have told him he will be paralyzed from the ribcage down."
Sciortino and his wife loaned $21,000 to Ballesteros so he could return to Spain for rehabilitation.
Share and Enjoy